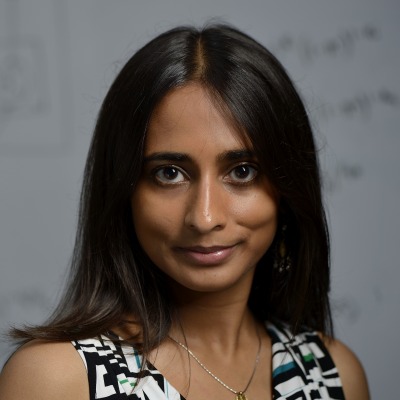 Archana Venkataraman
John C. Malone Assistant Professor of Electrical and Computer Engineering
John C. Malone Professor of Electrical and Computer Engineering
Research Interests:
Functional Neuroimaging (fMRI, EEG)
Machine Learning & Probabilistic Inference
Network Modeling of the Brain
Integration of Imaging, Genetics and Behavioral Data
---
Archana Venkataraman's research lies at the intersection of multimodal integration, network modeling and clinical neuroscience. Her main objective is to combine analytical tools, such as probabilistic inference and network theory, with neuroscientific findings in order to characterize complex processes within the brain. Her methodology has yielded novel insights into autism, schizophrenia and epilepsy, with the long-term goal of informing patient treatment and care. Archana received her Bachelors, Masters and PhD in Electrical Engineering from MIT in 2006, 2007 and 2012 respectively. She was a postdoctoral associate at both MIT and Yale prior to arriving at Johns Hopkins. Archana is affiliated with the Malone Center for Engineering in Healthcare at JHU, which aims to improve the quality and efficacy of clinical interventions.
Awards
2016: Council of Early Career Investigators in Imaging (CECI2) Award
2013: CHDI Grant on Network Models for HD
2012: MIT Lincoln Labs Campus Collaboration Award
2011: NIH Advanced Multimodal Neuroimaging Training Program
2007: National Defense Science and Engineering Graduate Fellowship (NDSEG)
2007: Siebel Scholarship
2006: MIT Provost Presidential Fellowship
Projects