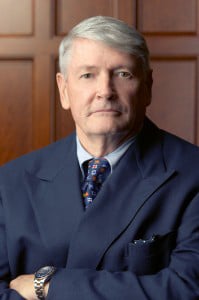 JOHN C. MALONE earned a Master of Science degree in industrial management from The Johns Hopkins University in 1964, followed by a doctorate in operations research five years later, both from the School of Engineering. He received his undergraduate degree from Yale University in1963.
Widely recognized as a pioneer in communications and media, Dr. Malone is chairman of Liberty Media Corporation and Liberty Global Inc. The interests of Liberty Media include QVC, the Atlanta Braves, and Sirius XM Radio Inc. Liberty Global provides broadband distribution services and video programming services to subscribers in Europe, Latin America, and Australia. Dr. Malone is chairman emeritus of Cable Labs and a member of the boards of Ascent Media, the Cato Institute, Discovery Communications, Expedia Inc., and Live Nation Entertainment. He was chief executive officer of Tele-Communications Inc. from 1973 to 1999, when TCI merged with AT&T.
In 2010, Dr. Malone donated $30 million to the G.W.C. Whiting School of Engineering for the construction of Malone Hall. In 2016, the Malone Center for Engineering in Healthcare was established to promote the use of engineering methods to improve healthcare. The Malone Center is a visionary effort to bring together engineers and clinicians from Whiting School of Engineering and Johns Hopkins Schools of Medicine, Nursing, and Public Health, so they can produce new technologies that will have a significant impact in real healthcare settings.
Dr. Malone has long believed in the promise of improving health care by connecting engineering technologies with medical advances and has made a commitment to providing endowed professorships to faculty members who are improving healthcare.