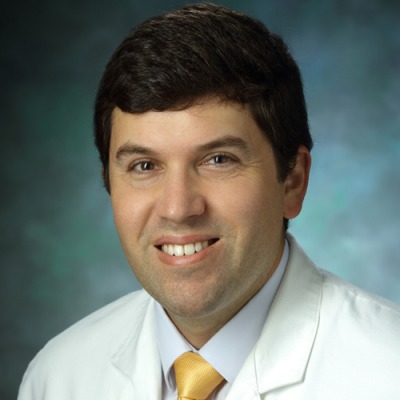 Seth Martin
Co-Director, Advanced Lipid Disorders Center
smart100@jhmi.edu
Assistant Professor of Medicine
Research Interests: Cardiovascular Risk Assessment; Mobile Health Technology; Preventative Cardiology
---
Dr. Seth S. Martin received his Bachelor of Science degree from Washington and Lee University, graduating summa cum laude and Phi Beta Kappa. He went on to receive his medical degree from the University of Pennsylvania and completed his internal medicine training at Duke University.
Dr. Martin then completed a cardiology fellowship at the Johns Hopkins University School of Medicine. He was designated the Henry R. Kravis & Marie-Josée Cardiovascular Fellow and also served as a Pollin Cardiovascular Prevention Fellow. Dr. Martin was awarded the Howard S. Silverman Research Award for originality and creativity in medical research. Additionally, he was recognized as an Up and Coming Future Star of Cardiology by the American College of Cardiology. During his fellowship, Dr. Martin obtained a Master of Health Science degree at the Johns Hopkins Bloomberg School of Public Health.
After completing the fellowship, Dr. Martin joined the Johns Hopkins Cardiology faculty. He is a core faculty member with the Ciccarone Center for the Prevention of Heart Disease and co-directs the Advanced Lipid Disorders Center. Dr. Martin also serves as an Associate Faculty member in the Welch Center for Prevention, Epidemiology, and Clinical Research. He has a longstanding interest in preventive cardiology, in particular cardiovascular risk assessment, lipidology, and mobile health technology.
Dr. Martin cares for patients with both acute and chronic illnesses and serves on the Hopkins Bedside Medicine Faculty. He is a Firm Faculty Clinical Coach and Educator with the Janeway Firm of the Osler Medical Residency. He also participates in teaching medical students and public health students.
Dr. Martin has published more than 150 articles in leading cardiology and medicine journals, as well as 12 book chapters. He contributed to an update to preventive cardiology published in Braunwald's Heart Disease: A Textbook of Cardiovascular Medicine. He serves as Associate Editor for the American College of Cardiology's CardioSource Dyslipidemia Clinical Community and as an Associate Editor for the Journal of Clinical Lipidology.