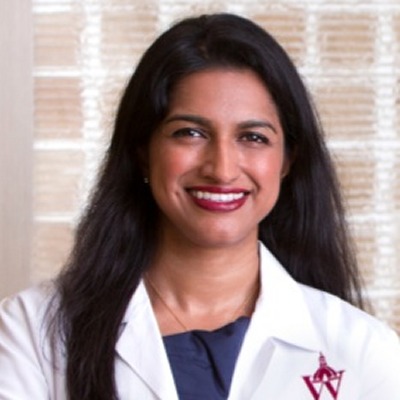 Shameema Sikder
Director, Center for Excellence for Ophthalmic Surgical Education and Training
sskider1@jhmi.edu
410-955-5650
Research Interests: Surgical Education; Cornea and Cataract Surgery
---
Shameema Sikder, M.D., founding medical director of the Wilmer Eye Institute at Bethesda, is an assistant professor of ophthalmology. She specializes in corneal disorders, including Fuchs dystrophy and keratoconus, complex cataracts, and external eye diseases. Dr. Sikder's clinical interests include surgical treatments for corneal diseases, such as endothelial keratoplasty (DMEK, DSAEK), complex cataracts, and treatments for keratoconus.
Dr. Sikder is the director of the Center of Excellence for Ophthalmic Surgical Education and Training (OphSET) at the Johns Hopkins Hospital. She has a particular interest in surgical education and is working on technologies that could be implemented at the international level to improve the level of ophthalmic surgical care.
Dr. Sikder received her M.D. degree from the University of Arizona. She completed her ophthalmology residency at the Wilmer Eye Institute and fellowship in cornea and refractive disease at the Moran Eye Institute in Salt Lake City, Utah, where she received the Claes Dohlman Fellow of the Year Award, recognizing the most distinguished cornea fellow in the nation. Dr. Sikder returned to Wilmer in 2011 and served as assistant chief of service (chief resident) and associate director of ocular trauma.
Honors
University of Arizona, College of Medicine Excellence in Research Award
University of Arizona, College of Medicine Research Distinction Award
Claes Dohlman, M.D. Cornea Fellow of the Year Award (National)
Mitchell Research Prize, Wilmer Resident Association
Honor Society Member, Alpha Omega Alpha
Intern of the Year, Tucson Hospitals Medical Education Program